put together by Dan-O who couldn't have done it without Nicole A Mullins, Bloodmoney Perez, Iceberg Theory, Darko The Super, and Idol.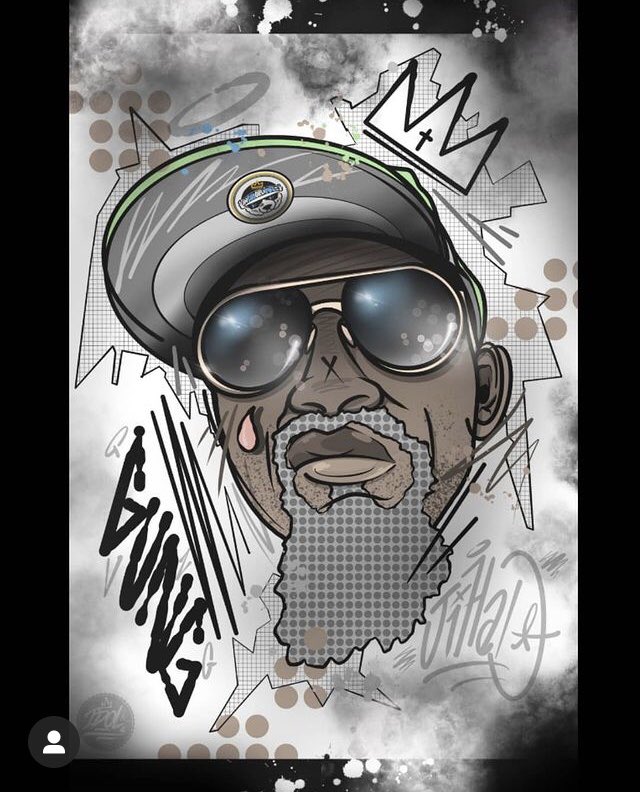 Dan-O preface:
Who am I to post this? Laying next to my sick wife I explained other people knew him better, longer and on a much deeper level. Through half opened eyes she muttered "He'd do the same for you…" and that was all I needed. No question he would shout from the mountains for any of those he touched. For Shelton Lee aka Shells aka Lorde Jones aka Scorcese relationships were much more than time in service or blood relation.
Bloodmoney Perez:
I came into contact with him when I ran my own blog (Damn That Noise) and we began trading music and talking via email and DMs. He was one of the friendliest hardest working MCs I've ever had the pleasure of knowing and we always looking for ways to get better and sharpen not only his style but visibility in ways that were meaningful. As a person who I checked in with about life he was always kind, vulnerable, and honest. It's rare you meet someone so genuinely motivated to not only better themselves but want you to succeeded and better yourself. It felt like if you saw him win, you won too, and vice versa if he saw you win he felt like it was a win for him. The loss as a peer, as a husband, and as a father is so sad. My heart goes out to his parents, his wife & boys, and all if his friends new and old who are broken by his sudden passing. I'll most DEFINITELY move with more passion BECAUSE of him.
Nicole A. Mullins:
Shelton was more than a friend to me, he was my brother. I could call and talk to him about anything, and we would. We both have cried on the phone with each other, told each other some things other people don't even know, because that's how much we trusted each other. He was so well rounded with his knowledge of sports, being a father, his love of music, being an educated black man, teaching intercity children and most importantly his views about life. He checked on me and my kids as if they were his kids—always was my daughter's biggest supporter when I would send him a video or a picture of her playing basketball. We would send each others kids Christmas presents or random gifts, because that is the kind of friendship we had. Breaks my heart writing this, as to me, Shells was invincible. He will always be remembered. See you on the other side my brother! Love u family!
Iceberg Theory:
In the short time that I had the opportunity and blessing to work with Scorcese, he made a tremendous impact on my life. We started making tracks for what would become our Palaces of Wisdom project in late 2020. We had done a few songs before, our collaboration "Diamond Vehicle" as well as Shells' contribution to my Slothmonk compilation "Dance the Devil Away," which both came out very dope, but it was after watching an interview of his, and getting a better sense of him as a person, that it occurred to me that it could be worthwhile to work on something more substantial. When we spoke about the project, he was immediately down. I had a number of beats that I had in the stash that I had accumulated from producers like Hesh, Half-Centric, Pepper Adams, Bloodblixing, etc, so I sent those over, and the next day he started sending me voice notes on the phone with rough verses.
As we worked we got on a number of phone calls to build about the album rollout, but our conversations meandered and most of the time we ended up just talking more generally about music and life, and it is these moments that I treasure the most. His M.O. was giving people something new with each project. Midnight Express was going to be completely different from East Hampton Polo Boys and Nation GVNG was going to be in a different lane from those. If there was one word I can use to describe his artistry it would be range. And then there was the care that each album rollout received. In both these senses we were complete opposites, which made working together that much more interesting and unexpected. My drops were always somewhat spontaneous, Fanon and I often releasing our projects as soon as he finished up the mixes, me telling him a date I had in mind and then ignoring that completely once I had the music in my hands. For Scorcese, everything was just so, from the music to the artwork to the packaging to the merch to the promotion, each aspect of the release planned meticulously.
Whenever I floundered, concerned about the rollout and the promotion aspects of our album, Shells assured me that we didn't need to do anything I wasn't comfortable with…if I didn't want to do a big interview/podcast run that was ok…if I just wanted to drop it and let people enjoy it that was fine by him. And he really meant it. I find myself listening back to the music we made together, completely crushed. On our song "Magic Pencils" I end my verse "I speak to Christ and it's man to man" and Shells picks up right where I left off, "I might sucker punch him, moving like Jesse Custer." Knowing Shells, I know Jesus is holding up a bag of frozen peas to his face as I write this. One of the last times we talked, I called him after seeing Nation GVNG on Okayplayer along with Dispatches From The Kali Yuga. He was so proud that the album got that look with no cosigns and no publicist…just great music.
Despite Shells' substantial catalog he was really just beginning and starting to reap the fruits of his labor. He deserved so much more, but I'm happy he at least began to see the impact that his art had on people, and receive some of his flowers. We both felt like our music was starting to catch on and we were excited to see where that would take us this year–especially working together, but beyond music, I am just happy I got to know Shells as a friend. His drive and determination, the way he always was the first to show love…that is how I will remember Scorcese Lorde Jones. Thank you for everything bro…
Dan-O:
He never made me work for his respect. Chin up chest out he let me know either verbally or by the way he carried himself that I already had it and if I didn't…he wouldn't be there. We did four hours of zoom conversations to promote different projects in 2020 and were in talks to lock in again for his album Lobster Tales In The Tesla. As an artist he was a writers writer. We talked about his love and talent for word choice, taking a word like esophagus or epidermis and building it into a verse without it sticking out. He loved burying double entendre and jokes or references behind one another in ways that wouldn't hit you without repeated listens. It all fit into my jokey but serious designation of him as 'the architect' someone who found calm in planning plotting building creating and constructing. The rare vision he had was in taking that love of building songs and expanding it into a love of crafting and moving merchandise, lending his energy to charge up the career of those on his label. I want it on the books that he was kind to me and taught me how to move in this ecosystem but at the same time he was incredible.
Shells was my kind of rapper. His career had turned on a remix album called Catchpoint where he leaned into nerdy references. Talking about pro wrestling or comic books has always been dangerously niche in hip hop but he went all the way into it and the theme allowed him to supercharge the music with adrenal anthemic power. In his mind 2020 was his shot so he released East Hampton Polo Boys Summer Catalogue along with Midnight Express (with fight music samurai Jason Griff) before dropping the Nation Gvng group album end of year. He put all his chips on the table and bet on himself and it was paying off. I ranked Midnight Express over plenty of popular albums on my year end list because of all the things I've explained about his artistic acumen in addition to the delivery of that skill which had never been as good before. Tapping into all the changes his voice could go through in a verse he figured out how to make it a strength when most would have fought it in favor of the pursuit of a solid tone.
Shells was a shark who never stopped moving, never stopped pushing forward. You can find people all over his life who would never be working as hard as they are if they hadn't met him. Loving hip hop so deeply meant he could identify your talent whether or not that skill set had any relation to his. One of the last great arguments he got in(on Twitter) was about the nature of competition. His point: whenever he gripped the mic he saw himself competing against everyone else doing it. People rightly explained how insane that sounded but Shells saw greatness everywhere and knew where he was on the list. I like to think he didn't have to close his eyes and focus to see where he was on it, he drove forward everyday never letting it slip his mind.
You cannot destroy energy, you can only redistribute it. We have to take it in and move with the efficiency and passion he made his identity. We have to love it for him, love our families for him. Hold our hugs and make the memories stick. Stay properly driven.
Stacking
Chips
On
Record
Crushing
Every
Single
Enemy
When I tell you he was growing by leaps and bounds you don't have to take my word for it. Darko The Super was kind enough to send me a demo of a song he was producing for Shells. Its shows how sharp his sword had become.
Lobster Tales In The Tesla is hitting soon. Play it loud and rewind your favorite lines. Tell everyone how good he was. That's hip hop and that's how we keep this alive. Follow Insubordinate Records and keep up to date on what is rolling out and when.