Where the fuck have I been? I don't know man, I was busy. Anyway, the last thing I think I actually published for this site was the MVP piece for Gucci Mane in 2012.  No one really cares about that though; go read my old stuff if you want, but this is going to be really loose.
Attention white people: the middling 10's might become known as the decade that ass appreciation broke, but large booties have always been in vogue.*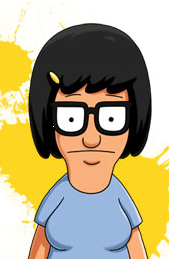 Tina Belcher: Feminist cultural revolutionary or white privileged appropriator?*
 As an example I present Domino's self titled, DJ Battlecat produced, deep cut classic A.F.D
If you do not remember Domino, shame on you. one of the only successful solo artist to come from the mediocre rap crew "Bloods & Crips", Domino scored with the G-Funk Classic "Ghetto Jam". Before disappearing in the fog of 90's nostalgia with the likes of Skee lo and the Dream Warriors.
A.F.D celebrates the ladies with large posteriors by dropping some great eye rolling puns ("I know you heard of Tales from the crypt, well this is more better/ Tales from the hip")  and some gross clunkers like "jiggle jiggle  jelly- like anus" which conjures up horrifying images of gelatinous rosebuds.  Either way, it's a great song. Ride with it.
– Derrick.
*these are jokes.