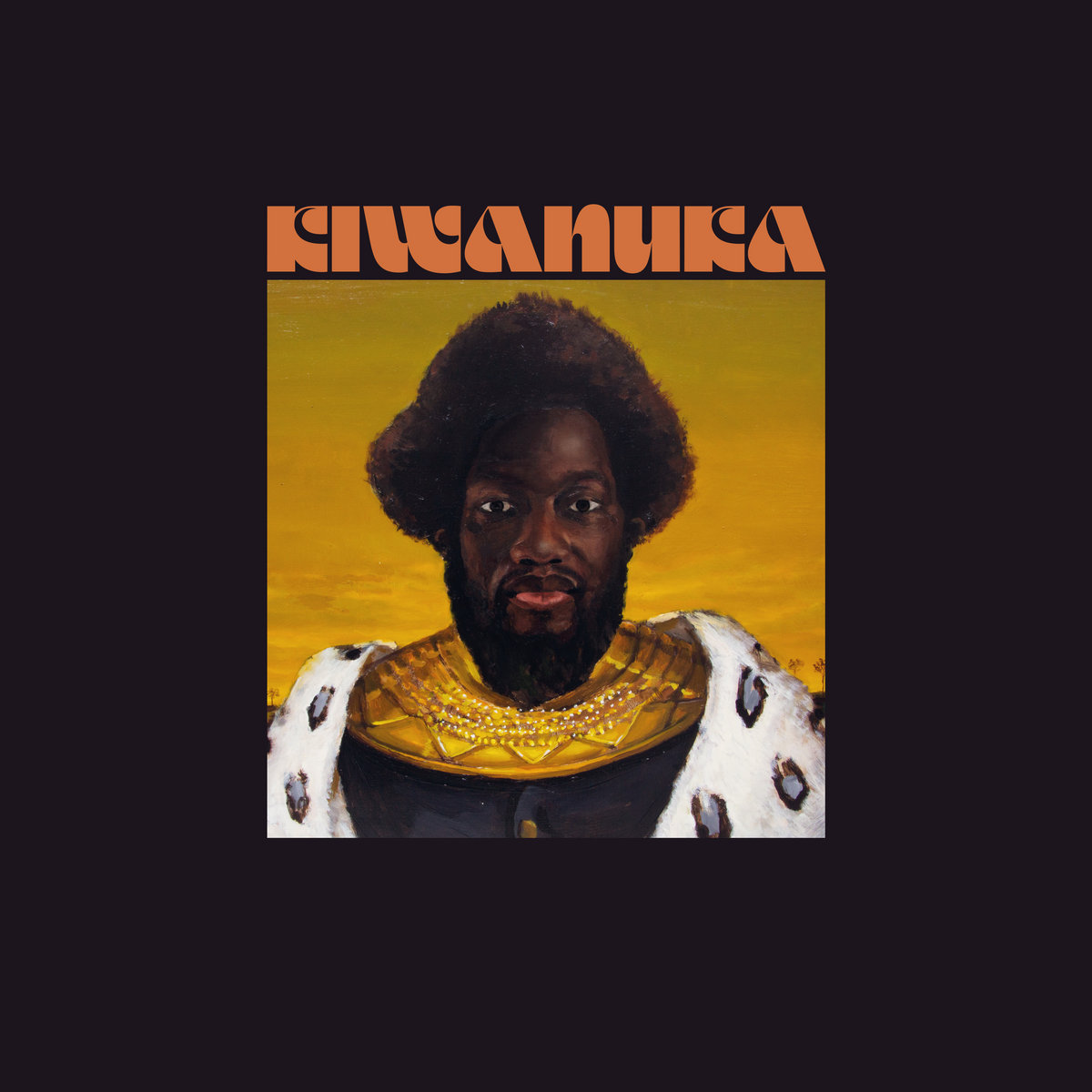 #Bandcampgold-Kiwanuka by Michael Kiwanuka  produced by Danger Mouse
by Dan-O
An albums first song needs to put you squarely in their world, so the rest of the songs can expand it. Think about how important it is to start Eric B & Rakim's Paid In Full with I Ain't No Joke. My go-to favorite first song-off-an-album this year was Cuz I Love You by Lizzo. It really sets the table for the boisterous heartfelt ride your about to go on. You Ain't The Problem might actually have it beat.  You Ain't The Problem starts with the tambalas, drums certainly but not the kind you may have been expecting. You hear a crowd a woman laughing and the music really kicks in. We don't actually hear Michael Kiwanuka until one minute twenty two seconds into the song. When the voice comes he is singing in sharp bursts to meet the pace of the music. When he says "Don't hesitate, time heals the pain, you ain't the problem…" it's as soulful as the songs he is known for but this time it's groovy fuzzed out and moving. Kiwanuka builds on the advancements made by Danger Mouse and Michael Kiwanuka on 2016's collaboration Love & Hate. The sonic background is dense, as an example, Rolling moves as fast as the first song; thick with handclaps tamborine bass and guitar. You have to think of Michael Kiwanuka as both the author and the instrument. Danger Mouse's job is to challenge the instrument.
What makes it one of the best albums of the year is that somehow it's complications manage to feel simple. A lot of post-Ocean R & B is daring to be daring. You can feel new sounds and ideas being hurled into songs where they normally wouldn't be and it doesn't always work. As a singer, Michael Kiwanuka has a voice that is clean and clear. His songwriting matches. His songs sound essential rather than attempted. Famous producer, super nerd, and great twitter follow Young Guru once spoke of him as the new Bill Withers and I think that really is his best comparison. He makes everything clear.
If your Danger Mouse and you have access to that unique an artist…why not brew these songs as advanced as you can…as thickly orchestral as they allow? The voice will always be there to keep the listener on track. That being said, when things slow down its really beautiful. Piano Joint (This Kind Of Love) is an amazing heartbreak song that benefits from its intro.
I'm not giving Danger Mouse credit for Kiwanuka (the album or the dude) I loved Home Again when it dropped in 2012. I'm giving him credit for shifting him from automatic to stick shift and putting them both in charge of the different gears.
Kiwanuka is the best pure R&B/Soul album this year. The crescendos of instruments mixing with background singers that give way to the single brooding voice of our narrator on Living In Denial take their place in the history of music. At fifty one minutes and thirteen seconds with fourteen tracks, the average length of song is about a minute and a half longer than your supposed to provide in 2019. Kiwanuka is not consciously bucking conventions; Hero is certainly a radio friendly song and You Ain't A Problem as well as Rolling are danceable. The great albums set their own tone and make you adjust. Whether it fits in the musical landscape or not. The day it came out a friend of mine texted me saying simply "This Kiwanuka is special." I can't find a better way to sum it up.
Stream or purchase below: