by Ed Hernandez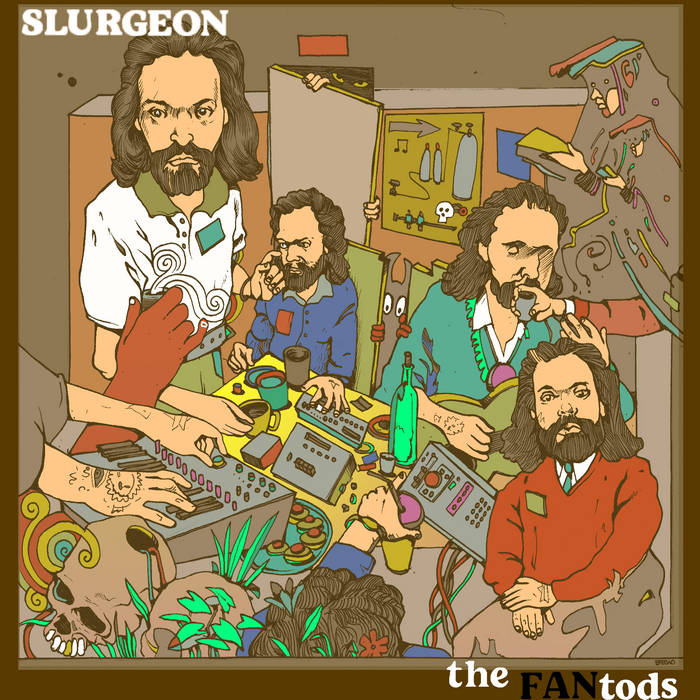 In 2021 and virtually since the death of the legendary J Dilla it seems like everyone became a "lo-fi" bedroom producer posting Youtube vidoes with their SP404sx's and miniature house plants perfectly placed, while they looped up sleepy pianos from soft jazz compilations and blended into the sea of beat makers on the "lo-fi beats to…." Playlists. It feels rare we get standouts now like we did when Samiyam, Flying Lotus, Teebs, Ohbliv, and the God Ras G were bubbling around causing a stir with their unique textures, drum patterns, sample manipulations and synth lines, save for a couple handfuls out there doing crazy shit. Allow me though, to introduce you to Portland, Oregon Producer Slurgeon and his debut release The Fantods (which just dropped on 2/5/2021 independently) which is an 11 track ride that is sure to conjure a plethora of screw faced reactions and several strained neck muscles from furious head nods.
The Fantods is the love child of years of experimentation on a fine-tuned collection of gear that the artist has clearly shown a mastery of across the entirety of the album. Sounding like the cross pollination of El-P's I'll Sleep When You're Dead and far too many nights watching Nicolas Cage's Mandy with the sound off; The Fantods kicks, squeals, snaps, trudges, and drags you along for a raucous ride with songs that feel like a demented acid trip ("golf shoes"), a delusional experience with beings sending signals into your brain ("pink lasers"), or waking up in an empty alley while kaiju destroy each other near by ("hot shroffe").
Slurgeon has delivered a flawless debut that announces his unique and seriously gifted voice as a producer and it really is a project that not only demands your attention but begs you to stay and let the feelings wash over your brain over and over again. The Fantods is an introduction we've not seen in quite a while and one I will surely not forget when the year wraps, or ever.
You can Stream The Fantods on all major streaming platforms but you SHOULD purchase it on Slurgeon's Bandcamp page here: slurgeonbeats.bandcamp.com (I am told Cassettes will be coming shortly and very limited so keep an eye out!)