by Dan-O
Answers by Tokyo Cigar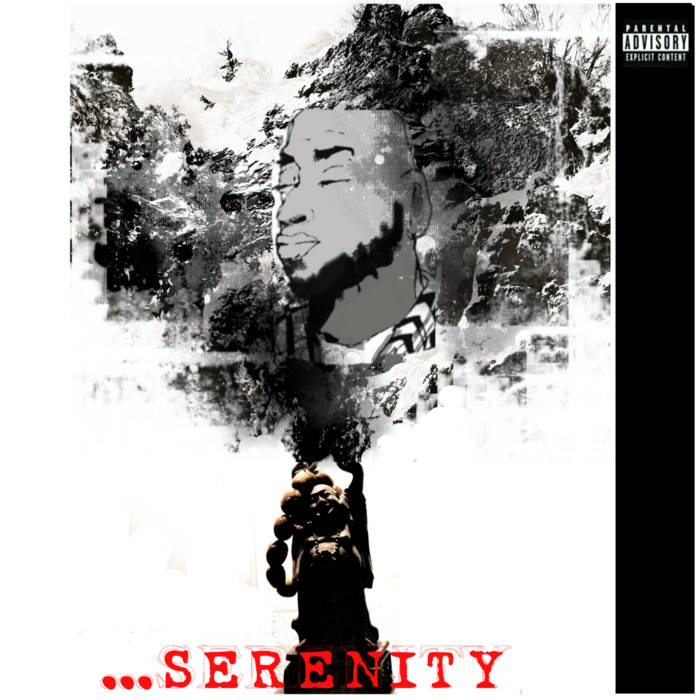 You might recognize some names on the twenty one track album Serenity presented by Tokyo Cigar. If your not familiar with the name presenting this music the album is a good introduction. It leaves you with the distinct impression that everything Tokyo Cigar does is handled intelligently from verses, collaborations to production. This album is big on vision. A terrain that gives all the voices he loves the most the best canvas. I had to ask some questions!
Fatboi Sharif-A Tribal Called Quest
Q-Fatboi Sharif has such a unique voice. He seems to approach each verse looking for new tones. What was your gameplan to make sure the sonics brought the best out of that? Did you mix him differently?
A-I made the beat on my Casio sk2100 which gave it a gutter rugged feel. He record his vocals and sent them to me and he had several vocal takes compiled together. Seeing how many takes he did and put together was mind blowing. Very intricate thinking to record like that. Mixing it was interesting and taught me a lot about giving space to balance things out. Getting the balance between his vocals and the drums was my aim to give the track a head nodding vibe. When I got the mix right I was bugging on how everything sounded. I almost changed the beat cause mixing it was tricky cause the Casio was so caveman sonically compared to all the other equipment I used for the album but Sharif loved this beat so much I stuck with it until I got it right. 
Dove Vega-When I'm Bad I Know That You Like It
Q-Amidst the dark tough production and the pure hip hop jams on Serenity this song really stands out. Super funky with a lot of swing. At times that swing feel reminded me of Strollin' from Prince's Diamonds and Pearls album. When did that manifest in this beat and what was the process of Dove Vega fully embracing the pace of the song?
A-I made the beat originally for another artist but she sat on it for a bit. I eventually sent it to Vega and when she heard it she called me like "dont give this beat to anyone else" when I saw how hype she was I knew it was gonna be good but I did not know it was gonna turn out that epic. I was blown away. It's actually the only song on the compilation I didn't tweak in any way at all. She recorded it a couple of years ago and it stood the test of time cause everyone who heard it this year lost their minds. The beat I was inspired by lounge jazz and I made it in 2015. That's dope you brought up Prince cause when we linked she told me  the dove part of her name is inspired by When Doves Cry. 
Iceberg Theory-Iceberg Snoopy Sweater
Q-I've listened to a fair amount of Iceberg (some of the best of it produced by you) but I've never heard his voice like this. Not only does the beat flip a minute and nine seconds in but his voice flips and then flips back after one minute and thirty-five seconds, sounding deeper. I think this song has three vocal tones and three beat variations within it in two minutes and twenty seconds. How did this song happen?!
A-Iceberg BEEN the fam. We been working together for a long time. We did that right after we finished the Philokalia album. Yeah all three parts were recorded at different times and I ended up putting everything together ( btw you are CRAZY for picking up on the vocal tone differences. Amazing ear ) for the middle there was originally a Thomas Merton vocal clip but since I wanted to keep Serenity 100% sample free I had the idea to bridge the song using a poem he had recorded not too long ago. I put it all together and it flowed perfectly. The first beat is what he recorded to but the second and third were last minute changes.
Heavenly Cartel ( Heaven Razah X TokyoCigar ) – Judas Goat
Q-Heaven Razah really inhabits the space of this one perfectly. This beat is big and mean. For anyone who hears this and wants more Heavenly Cartel, how would you describe the group identity? How did the concept for Judas Goat come together?
A-I've been a HUGE fan of Razah since I heard Sunz of man. He reached out to me and we started working. For anyone who wants more from us we did an entire album called "Spiritual Kung fu" https://djflipcyide.bandcamp.com/album/spiritual-kung-fu-heavenly-cartel-mixed-by-dj-flipcyide Since he had his brain aneurism his recording abilities changed so he would send me vocals he had and I would build the beats around him. I was inspired by the fact he overcame so much and STILL had the passion to get into the booth despite the changes. Judas Goat was one of the best joint we did cause it uses his post aneurism vocals and shows his spirit of determination. So I wanted to make sure the vocal had a majestic beat to match. I had a couple different beats for it but my gut kept telling me to change it and when I did this version I knew that was it. I sang the hook to add to the vibe of the song. 
Paranom, Tony Moreaux, ASN, Malmoe- Came A Long Way
Q-Paranom does such great work on Serenity. I see three appearances, how did those come together? This feels like an unlikely posse track but it is so potently moody and everyone brings it. Also, am I wrong in thinking this is a beat a lot of rappers would not know what to do with?
A-Paranom got on through m-credible who knew him for years. If this album is my Chronic then Paranom is the Snoop of the album. The one that runs through as a consistent thread. I love his writing style and flow. He's like an abstract impressionist painter with his words and a master of setting a scene. ASN on this has one of my favorite verses cause he summed up the struggling artist mentality incredibly and is very motivating for all artists out there who make incredible art despite not being rich and famous. Yah that beat was flipped on the sp404. Some 80s rock vibes. Kinda like some training montage music. They rhymed to a different beat and then I changed it to this version at the last minute cause I had a gut feeling. 
CHECK OUT SERENITY AND OTHER TOKYO CIGAR.