Introduction and Outro by Dan-O
The rest by Iceberg Theory
Every song Iceberg Theory laces is a journey. A journey through history, politics, and spiritual understanding. When I interviewed him I said that his lyrical world is like Gotham City in Batman The Animated Series, not really our world but not divorced from it. The architecture is different, the bars slip from Mesopotamia to shadow battling mic skills. Iceberg has filled bandcamp with his tomes and I want to let him tell you where to start:
One Line by The Plexiglass Fountain
https://theplexiglassfountain.bandcamp.com/album/concrete-mythology-the-year-of-the-dragon
This song marks the end of an era. From when I first started rhyming up to this album I was going by Cyclops and this was the last album that I did under that name. This is the third album that Tokyo Cigar and I made as The Plexiglass Fountain and at the time was definitely a peak for both of us. At this point me and Tokyo had been working together for years…since 2008-2009 when we did Left of the Scenery. Tokyo saw something in me when my skills were FAR from developed, but through these albums, I started to hone my craft. When I asked Tokyo to name the most quintessential Plexiglass Fountain song he texted me back this one within minutes and I had been thinking the exact same thing, so there you have it…there really wasn't another choice to better represent this time in my musical life.
Sunday by Angkor Wat
https://angkorwatraps.bandcamp.com/track/sunday
A lot of people haven't heard this EP and don't even know it exists, but it is important to me for a few reasons. I was in college when I made this, working with a good friend of mine who did the production. This song brings me back to the apartment we were living at in Ithaca called G Block. It was in downtown Ithaca and the oldest building in town. It was super central as far as location and people would always just come through there. We would throw parties and performances. I didn't appreciate it at the time since I was so reclusive, but looking back at it, it was cool being around so many different people. It was a good time in my life. And the building where this was recorded ended up getting hit by an 18 wheeler and we had to move. It's renovated now, but we were the last people to live in G Block as it was meant to be. Another reason this song/album is important is because I think it's the first work that August Fanon heard from me that got us working together. The rest is history.
Coffee by Iceberg Theory & DJ A.I.
https://icetheoryrap.bandcamp.com/track/coffee
This song is dope to me because I really started getting into my Iceberg Theory chamber and I feel like things finally started clicking. On the song it even alludes to the origin of the name ("Reborn as Theory amidst Midnight Marauding"). DJ A.I. is a master of the sci-fi sound and the whole album has that sort of feel. This album also is important in terms of reaching a wider audience. We were able to get a write up and interview on Huffington Post https://huffpost.com/entry/cold-world-an-interview-w_b_11368306… which was by far the biggest look that I had gotten up to that point, and was surreal at the time to have a journalist writing about my music in a serious way meant for other people to read.
Compline by Iceberg Theory & Tokyo Cigar
https://icetheoryrap.bandcamp.com/track/compline
Philokalia was a monumental album for me at the time and remains one of my favorite works I've done. Tokyo Cigar says that it clicked straight from the universe and he's not lying at all. The story behind the album was that I was going on a road trip across the country to live and work at a spiritual retreat center in Minnesota. I had been interested in monastic life and was looking for somewhere I could go and get away from things and focus on prayer and mediation. I knew that during that time I probably would want to record some music, especially since they had a hermitage on site that the workers could stay at when it wasn't being used by guests, so the album was recorded at that retreat center as well as various other retreats I took during the year I stayed there. The idea for the album came from me telling Tokyo to make beats that sounded like Roc Marciano's Reloaded if it were made by Saint Augustine and he was able to match that atmosphere to a T…Each song on the album is accompanied by a "B-Side" that represents one of the monastic prayer hours. Compline is the night prayer and I remember writing this particular song on a 3 day retreat in Wisconsin at a place called Solitude Ridge. There are a lot of songs on the album that are important to me, but I think this particular song captures the whole of what we were going for with the poetry on one half and the rhyming on the other.
Righteous by Iceberg Theory & August Fanon
https://icetheoryrap.bandcamp.com/track/righteous
There are a ton of Ice/Fanon songs to choose from and I feel like I could answer this interview just using shit we got…but this is where it all started. We had plenty of other songs before this, but this is the intro song on the first album we officially released. It reminds me of my second time going cross country and being in Nebraska and South Dakota ("Prayers to blind goddess in the land of skies"). I love the Thomas Merton clip it starts out with, where he's talking about searching for answers and how people think they are gonna figure out the meaning to life as if it's a code you can enter to open a monastery gate. The beat from Fanon is still one of my favorites I've rhymed on. It's just so bright and soulful. It really speaks to me.
BUY THE NEW ALBUM HORNED MONK by Iceberg Theory & August Fanon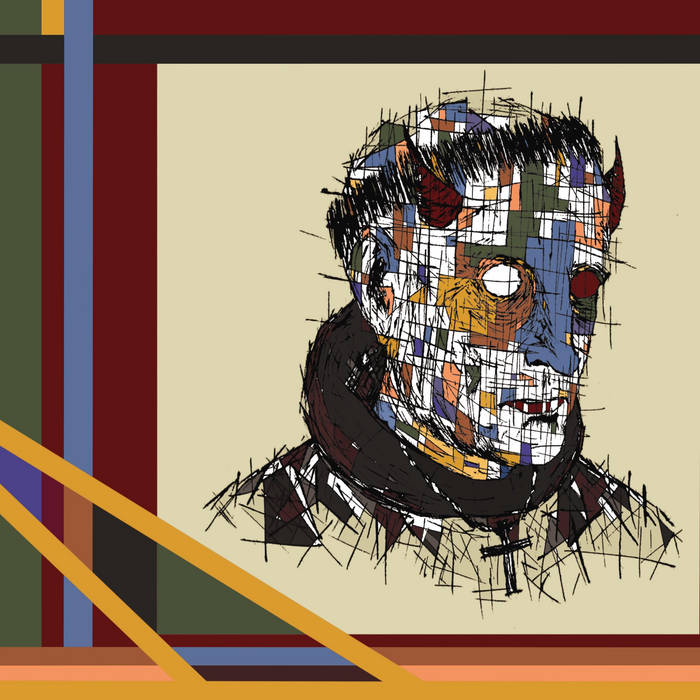 https://icetheoryrap.bandcamp.com/album/horned-monk